Pastor Don Cook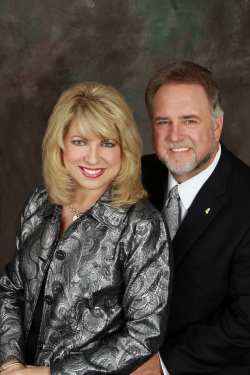 We love our Pastor and his lovely wife, Judy, and you will, too! Pastor Don and Sis. Judy Cook's ministry began in Indianapolis, Indiana over 30 years ago! After evangelizing full-time for several years, they began their Pastoral ministry in Florida in 1980. God's leading brought them to Freedom Church of Northeast Arkansas in May 2012. Pastor Don is an anointed preacher, embracing his calling with a willingness to serve others. He has also been a member of three southern gospel quartets, including "The Weatherfords". He and Judy were guests of the 1999 Spring Praise-A-Thon on the Trinity Broadcasting Network.

We extend to you an invitation to worship with us at Freedom Church. Our primary message is the death, burial and resurrection of our Lord and Savior, Jesus Christ, and His blood being shed on the cross for the atonement of our sins. Revelation 22:17 says, "And the Spirit and the Bride say, Come. And let him that heareth say, Come. And let him that is athirst, Come. And whosoever will, let him take the water of life freely." Since Freedom Church's inception in the year 2000, many have experienced the finished work at Calvary around our altars!

Our Board of Directors consists of Pastor Don Cook, Chairman; Darrell McQuay, Vice-Chairman; Bobby Long, Treasurer; and Rocky Cordle, Secretary. These godly men are totally committed to the advancement of Freedom Church and the Kingdom of God.

As an Independent, Non-Denominational, Full-Gospel Church, we believe in the baptism of the Holy Ghost and practice the nine spiritual gifts mentioned in 1 Corinthians, Chapter 12. We have ministry outreaches for every age group of the family. If you enjoy anointed praise and worship, southern-style gospel hymns, faith-building messages, genuine altar calls, and are looking for a good home family, then Freedom Church of Northeast Arkansas just may be the place for you!! We invite you to help us build God's Kingdom as we journey to that place God has prepared for us!



---